67% of Publishers Found Resources to be Their Biggest Technological Challenge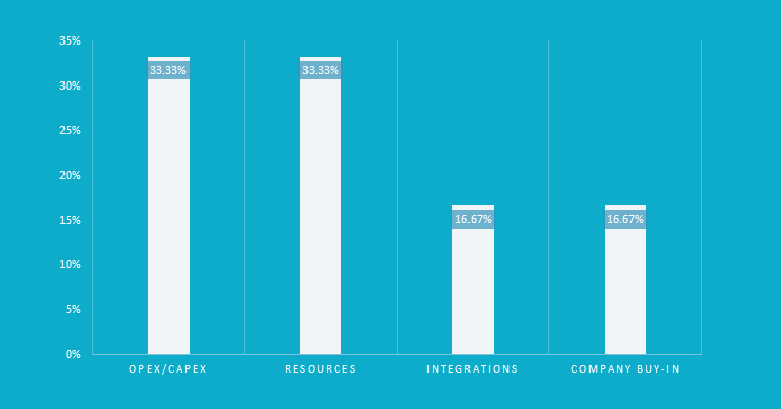 This is blog one of a two-part series on the Build vs Buy dilemma.  Part two, 'Build vs Buy: 6 reasons why you should buy your content monetisation software', is coming soon.
A recent poll conducted by MPP Global analysed the major challenges for publishers across the globe. The poll was conducted during a webinar series presented by MPP Global's VP, Media & Publishing, Ana Lobb, and evaluated the 'Build Vs Buy Dilemma'. Ana shared insight into evolving technical strategies such as SOA (Service Oriented Architecture) and how legacy and ERP platforms can be quickly and easily adapted using specialist cloud technologies to evolve subscription and billing strategies. You can view the webinar on demand here.
Major highlights from the poll found that 67% of respondents considered cost, including OPEX, CAPEX and resources, to be the biggest obstacle to transforming their digital initiatives.
What do you consider to be the biggest technological challenge your business has faced within the last 6 months?
With 67% stating that a lack of resources and capital have been their biggest challenge in the past 6 months, it is understandable why companies may favour developing an in-house solution to achieve their digital revenue objectives. The poll also revealed that gaining company buy-in to select a third party vendor was a continual challenge, particularly with 17% of respondents stating they felt like the integration process would prove problematic. In addition, gaining company buy-in in to select a SaaS vendor was also an obstacle they had recently faced.
This leads onto the question of build vs buy; what is the right approach to your recurring revenue strategy? Both options offer benefits and opportunities, with internal development sometimes being seen as a cheaper option as the business could have more control over the product that is launched.
Building an in-house solution requires more initial outlay, resources and commitment but investing in a Saas platform reduces long term operational costs, whilst increasing revenues. There are significant advantages of buying-in an external SaaS platform such as eSuite, which offers flexible subscription packages, simple API led integration and accommodates hybrid models. Moreover, with an existing framework built on PCI-DSS Level 1 compliance, eSuite guarantees the security of data, which is particularly important in light of approaching GDPR regulations, which come into force in just 9 months' time.
Concluding Thoughts
The main challenges that publishing professionals expressed during the webinar, namely a lack of resources and capital and being encumbered by outdated legacy platforms that have already had heavy Cap Ex Expenditure, are relevant across all industries.
The build vs buy dilemma and the need to integrate the right model, can play a significant role in the success of monetising your online content. In the process of planning, content owners need to have a clear understanding of what they want to achieve from their digital content monetisation strategy. With this set at the start of the project, the decision about how you are going to integrate software to support your strategy becomes significantly easier. With eSuite, you are not tied to inflexible in-house solutions; it can be applied to all business models and grants publishers flexibility and speed to market for new products and services.
Working with a vendor offers a whole host of advantages. Part two of this blog series, 'Build vs Buy: 6 reasons why you should buy your content monetisation software', is coming soon.
Get in touch with our subscription specialists for a quick chat on how to generate and grow recurring revenues.