Digital Transformation: Giving Members What They Want, How They Want It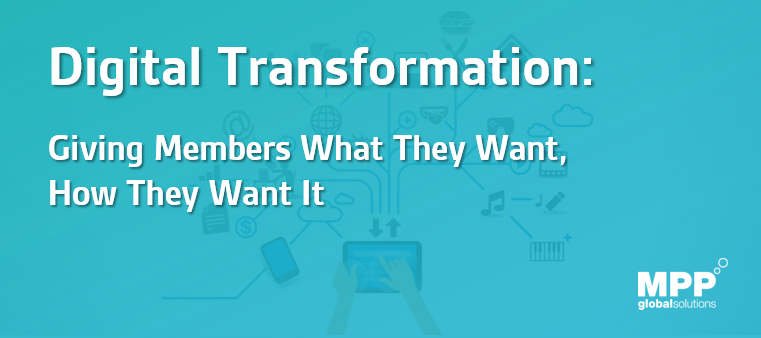 What You'll Learn:
Today's membership organisations need to take advantage of the opportunities offered by digital transformation technologies to disrupt before they become disrupted. Read on to find out more about four prevalent technologies membership organisations can implement as part of their digital transformation strategies to ensure success.
---
CIO describes digital transformation as: "The acceleration of business activities, processes, competencies and models to fully leverage the changes and opportunities of digital technologies and their impact in a strategic and prioritised way."
Managing your members efficiently and offering them relevant and valuable interactions means careful consideration of their entire lifecycle. This starts with acquisition and conversion all the way through to retention and recovery.
Put simply, member experience is something that should be considered at every step. Recently, we have seen a surge in organisations putting member experience first to go above and beyond expectations, and digital transformation enables you to achieve this in new and exciting ways.
Here are four technologies you can integrate into your digital transformation strategy:
Gamification
A great way to engage members is through the gamification of your services, whereby elements and principles of games are applied in a non-game context. A good example of this is the Competitive Carriers Association (CCA), who developed a gamification element in their event app, turning it into a digital treasure hunt.
Delegates could earn badges for attending specific booths or watching product demonstrations, as well as leaving reviews of speakers and posting a selfie with a new connection. Whoever scored the most points at the end of the conference was rewarded with a prize. The CCA achieved what they wanted and increased visits to normally quiet stands and ramped up the level of engagement at the event.
Apps
Research has shown that younger audiences prefer to interact using an app and this technology enables you to deliver a variety of services directly to members.
Another great example of an innovative app in use is the Providence Anaesthesiology Associates in the US. They offer care to over 100,000 patients each year across 19 different locations. The PAA had an app developed which was able to give them instant access to valuable resources required by their members. This enabled them to easily collaborate with each other and access information faster and more efficiently than ever before. The app is now used by all its members.
Content Consumption
Give your members what they love: content.
We are now seeing more video content than ever before, as consumers demand easy access to content on-the-go. Video has the highest engagement level of all forms of content and is arguably the most powerful way to share a message and inform, educate or entertain your viewers.
It's also highly likely that your members use social media. Find out which platforms your audience prefers and target them directly using hashtags, trending topics, live video features, promotional advertising and more.
Data Collection & Hyper-Personalisation
Members don't want a one-size-fits-all experience. They now demand personalised, seamless experiences – things that are simply not possible without data.
However, there's a fine line, as you don't want your members to feel like you've been spying on them. Try being more upfront with your data collection tactics and use every interaction as an opportunity to get to know your members. Over time, you can build robust profiles by asking simple questions about their preferences.
When you have the data, this enables you to adopt new technologies such as AI to do a lot of the heavy lifting for you. For example, you can begin to recommend content based on what articles, research papers and videos members have engaged with the most. This could be by subject, skill level or author; the possibilities are endless.
Attend the Event: MemberWise Digital Excellence 2018
Join us on 31st October at MemberWise Digital Excellence 2018, one of the UK's only events that brings together memberships organisations.
Taking place at Park Plaza Victoria Hotel, London, the event will comprise of keynote presentations, panel sessions and plenty of networking opportunities.
Natalie Eastwood, MPP Global's VP, Subscription Retail & Digital Services, Europe, is speaking at the event to discuss how membership associations can benefit from platforms such as eSuite, which enable organisations to build personalised subscription models and boost member acquisition, engagement and retention.
Download the Guide: Memberships in an Era of Digital Transformation