eSuite for OTT Providers: Broadcast Schedules, Customer-Defined Product Bundles & Centralised Subscriber Management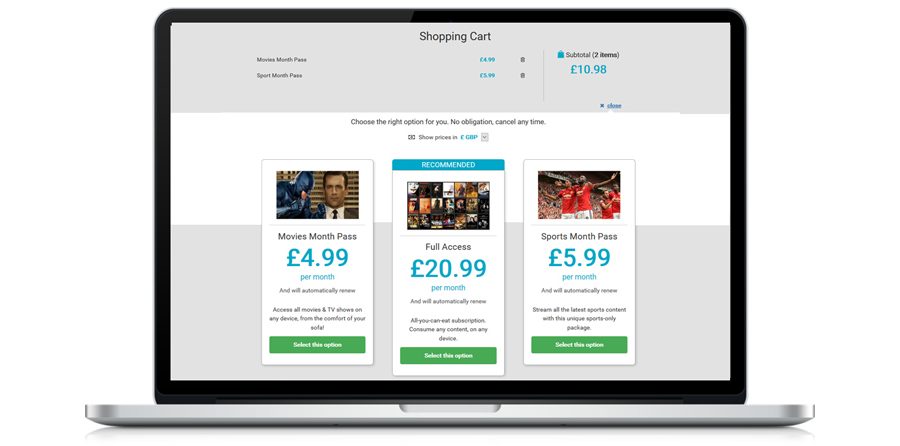 What You'll Learn:
Following the single-biggest functionality update to the eSuite platform, find out how eSuite empowers OTT providers to intelligently drive new revenue streams for a diversifying, global client base.
---
MPP Global's launch of a new and innovative set of features for eSuite, the world's smartest subscriber management & billing platform, offers major OTT service providers more opportunities to expand revenues with greater package flexibility, more customer control and increased ability to bundle digital & physical products, all under one roof.
New functionality enables you to:
Offer More Granular OTT Packages Than Ever Before
All-new Broadcast Schedules offer greater flexibility when issuing content entitlements and can be configured against individual products and services, so you determine when, and for how long, a digital content entitlement is available to your customers.
This could include traditional monthly or weekly subscriptions, in addition to day or event-based passes – for example, a football match or Pay Per View event; enabling you to unbundle your content and reduce barriers to entry.
For those looking to go beyond video content and offer physical products, it is also possible to trigger physical fulfilments. This could be a free device with an annual digital subscription, or a standalone product such as a set-top box or football shirt.
Save Time & Cost with a Single Platform to Manage ALL Subscribers
Become more operationally efficient and reduce cost of ownership by managing all your subscribers in a single centralised platform.
With a single login and payment wallet for each customer, that means no more disparate systems to update or legacy software to contend with, and a considerably more accessible user experience for your customers. The other major benefit of this approach is that by reducing the fragmentation of your audience groups, you gain a clearer insight into potential new revenue opportunities.
Drive New Revenue Streams with Advanced Bundling
Explore further new monetisation opportunities by creating and launching pre-defined physical product and digital content bundles in a single platform. These pre-defined bundles could encompass any combination of, for example, behind the scenes footage access and a physical smart stick for OTT, or a regular sports team match subscription and one-off branded merchandise for sports – all with a single payment account attached to a single identity in a centralised back-end system.
Increase Engagement with Customer-Defined Bundles
Modern customers demand control and personalisation. With all-new configurable carts, you can give them the tools to define and create their own customised bundles without having a prescribed set of options, all from a single selection page.
What's more, we've added all of the above to our out-of-the-box customer journey application, the eSuite SDK, and our brand-new API, meaning you don't have to be tech-savvy to get your products to market in a matter of minutes.
Target Fragmented Audiences Internationally
Beyond packages and bundles, eSuite enables you to offer your products seamlessly on a global scale.
Support your internationalisation strategy by engaging, managing and retailing to subscribers in fragmented markets, in any country, currency, payment type or language; supported by a range of payment optimisation features to reduce both voluntary and involuntary churn.
What else does the update offer?
These innovative features are just the tip of the iceberg. To experience all that eSuite's latest update has to offer, download the fact sheet here or request a demo below.
Request a Demo of eSuite Physical Subscriptions