eSuite, a Year in Review: Top 10 Features Launched in 2017 (Part Two)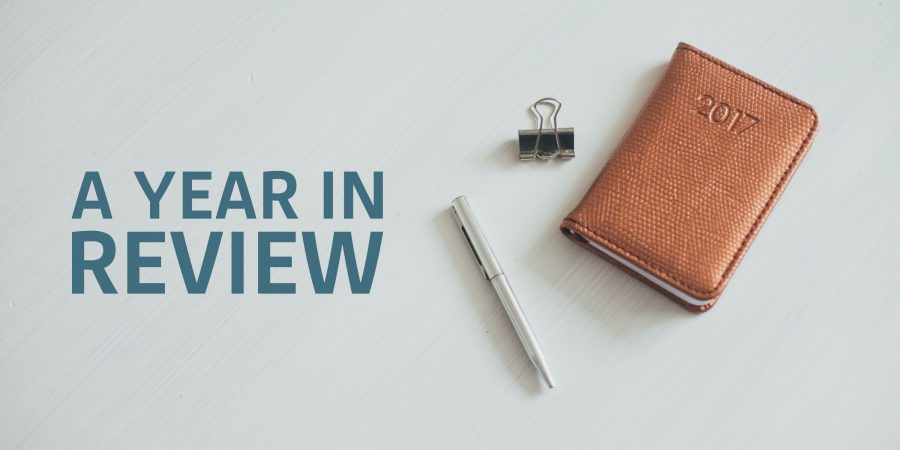 Welcome to part two of our two-part blog series "eSuite, a Year in Review: Top 10 Features Launched in 2017". See the second half of our top 10 features launched in 2017 list below!
#6 Carrier billing: Ability to Process Payments via Mobile Phone Carrier
To further reduce barriers to entry on a global scale, we have recently rolled out carrier billing, enabling customers to purchase goods and services via their mobile phone bill.
The benefits to end customers are that it is possible to bundle additional subscriptions on to an existing phone bill, it works across devices, is available globally to major mobile carriers and offers a unique checkout experience, meaning it does not require a card or additional banking information to purchase. Instead, once a customer selects the carrier in the checkout pages, the customer enters their phone number, to which they receive an authorization code which they would enter onto the payment page to configure the billing.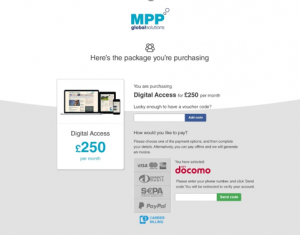 #7 New Discount Offer Type: Additional Offer Flexibility to Entice More Customers
We've built a new offer type configurable within eSuite HQ that allows our clients to discount purchases by a fixed monetary amount, on top of our existing functionality to discount by a %. For example:
Apply a £5 discount for a set number of payment on renewing a subscription
Discount a one-off purchase by $10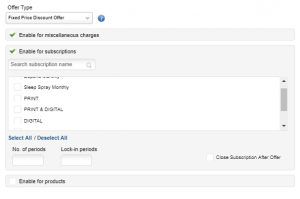 #8 Multi-Variate Testing: Build, Test and Optimize Conversion Funnels
A new consequence has been added to our Intelligence & Decisioning module, where clients are able to configure, either in a drag-and-drop UI or more comprehensively direct in the JSON document, a rule to redirect customers to two or more URLs, instead of a single URL, either by a specified number or percentage. More commonly known as A/B testing, this consequence will enable clients to test product, registration and purchase journeys to uncover what works best for specific segments.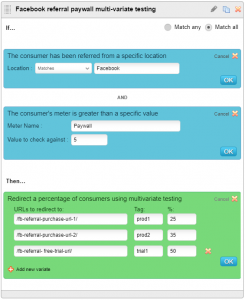 #9 Additional 3rd Party Authentication Options: Reduce Barriers to Registration
On top of our existing direct integration with Facebook to authenticate customer accounts, as well as gather data, we have also added on Google+ and Yahoo Japan to support our clients' global customer base when using eSuite SDK or directly via eSuite API.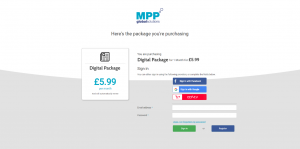 #10 Increased Language Support: Manage Your Subscription Business, Globally
Throughout eSuite HQ, there have been numerous additions to roll out new languages and ensure all functionality is fully translated, working as expected and correctly formatted. These additions include:
Define language upon login
Validation errors
Ability to add multi-lingual custom parameters
Formatting improvements to eSuite HQ to adapt to different languages
Customer filtering (including new filtering options: D.O.B, status, start/end date of subscription)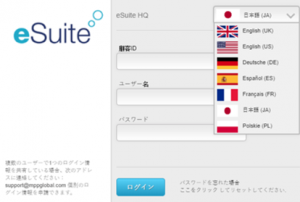 While we've seen new and exciting features added to the platform above, as well as hundreds of other features added throughout the year, we've also welcomed a number of new businesses to the eSuite platform, helping them thrive in the subscription age; including the likes of UKTV, Juventus, Specsavers, DC Thomson, McClatchy, Leeds United Football Club and Fulham Football Club to name a few. We look forward to welcoming all our clients to our next digital client forum in the new year.
Another huge hurrah for 2017, came in the form of our series B investment, where we raised £12m/$15m from Albion Ventures and Grafton Capital. And we're already seeing this investment pay off, advancing our product roadmap, as well as expanding into new regions, including Japan and the Middle East.
And here we are at the end of 2017 and we're all excited to see what 2018 holds.
Happy holidays from all at MPP Global, and join us in the new year as we look forward to releasing new features, documentation, as well as resources on our website for you to enjoy and benefit from.