How Europe's Top Football Clubs Are Driving Fan Engagement with Pre-Season Live Streaming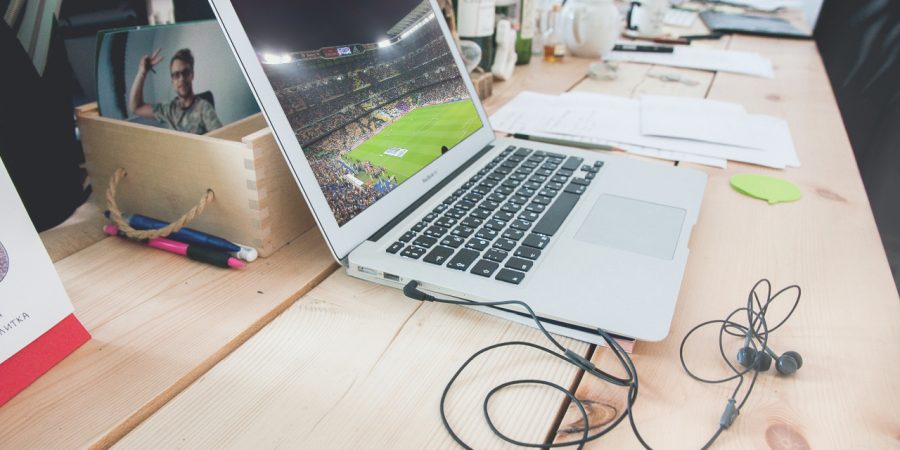 What You'll Learn:
Find out how some of the top football clubs around Europe are working with MPP Global to use live pre-season football to drive up fan engagement and combat churn.
---
Football clubs have worldwide audiences desperate to engage with as much video content as can be made available to them, but most have one major problem. That is that the most desirable content they have – live first team match coverage – has already been sold to traditional, linear broadcast media. However, there is still a window when clubs can exclusively sell their live games direct to their fans and that's pre-season.
The friendlies and tours that take place before the start of a new season are the only times when the first team stars of top flight clubs around Europe are involved in games that aren't part of existing broadcast deals. That makes pre-season the perfect opportunity for clubs to leverage this content as a way to acquire subscribers for OTT services, or events to use as a way to launch a new service.
Football fans want to see pre-season games; to see the new signings playing their first games, to start to build up the excitement and anticipation for the new season ahead. Even games being played around the world at inconvenient times will still attract loyal audiences who don't want to miss out on any action. And this is also where on-demand content, such as full match replays, carry value in OTT services to subscribers in inconvenient time zones. There is a good chance fans will find illegal streams to watch it anyway, so why not give them the chance to watch via a reliable, official channel and gain some revenue and fan insights along the way?
Getting Up and Running
The good news is that it's not a big job to set up a web-only OTT service in time for pre-season where clubs can stream their friendlies direct to paying subscribers from domestic and international markets. eSuite can manage the entire fan lifecycle for you, enabling you to develop direct-to-fan revenues and compelling digital strategies to acquire, monetise and optimise fan experiences through a service such as an OTT video channel.
MPP Global has worked with the largest football clubs in England, Italy and Spain to help them to do just this, building up large audiences by leveraging the content available to them during pre-season. A major European football club we work with saw a huge rise in subscribers around the 2018 pre-season campaign when they could stream content into both domestic and international markets: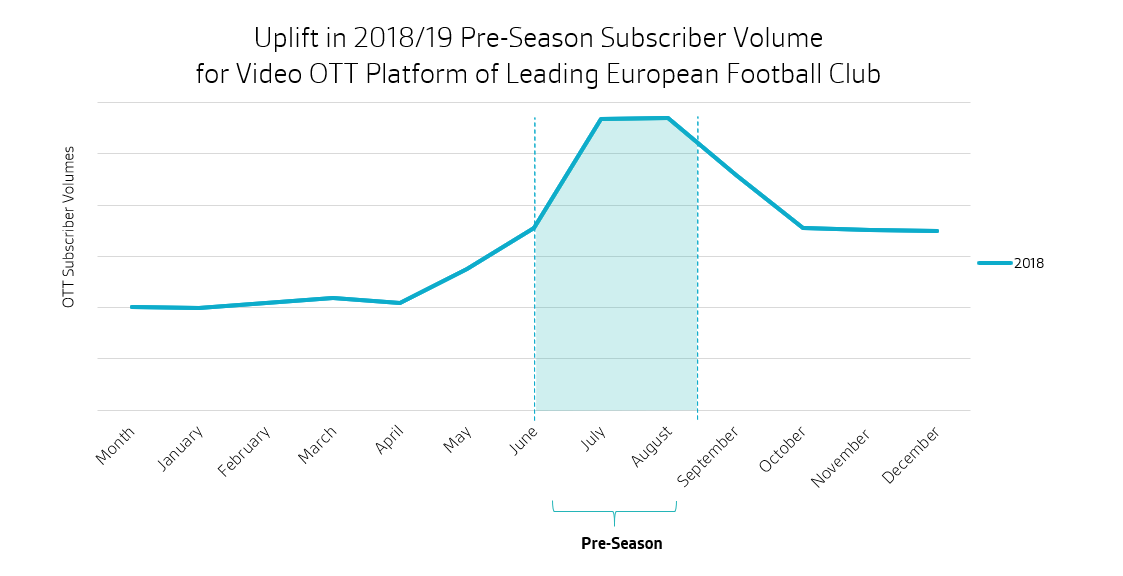 We've also worked with one of the biggest clubs in English football for their last two seasons, with big subscriber increases across both summers, particularly last year: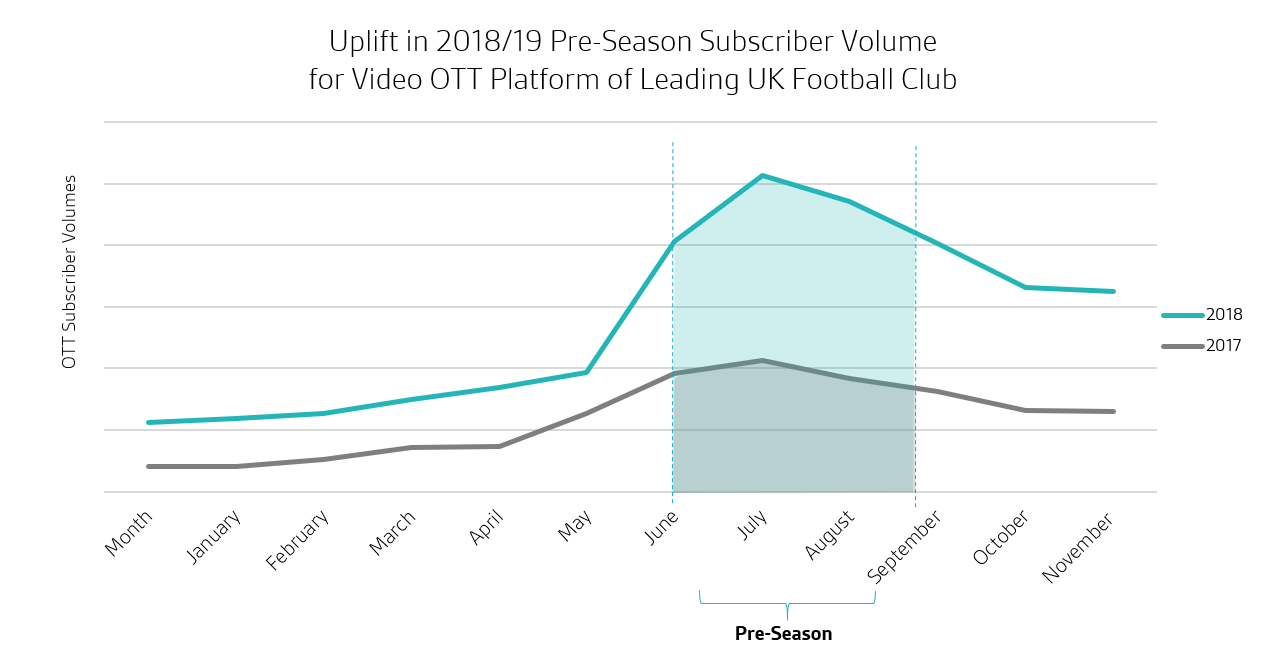 eSuite's new Broadcast Schedules functionality offers even greater flexibility to sell subscriptions for pre-season football. Broadcast schedules can be configured against individual products and services, so you determine when and for how long, a digital content entitlement is available to your fans. This puts the power in their hands by allowing them to pay for exactly what they want, but also gets you their information so you can use offers to keep them as long-term subscribers.
Combating Churn
One club we work with in The Championship has demonstrated that the ability to live-stream some select first team games (for UK fans, that's games that aren't otherwise being broadcast by Sky or BT, for non-UK fans that's any games that aren't being broadcast) has a definite impact on the number of fans that churn after the end of pre-season, with far fewer fans leaving due to the continuation of live streaming rights: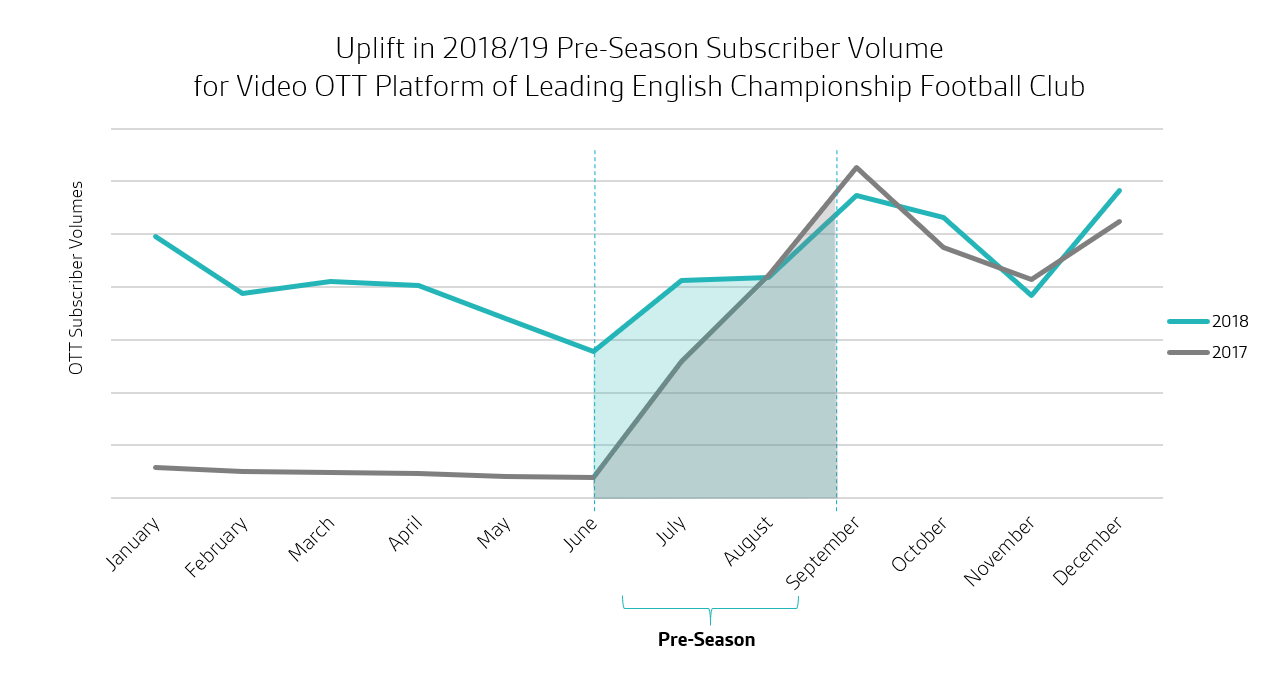 However, for most top flight league clubs, this isn't the case, so what is to stop them churning once the season starts and the games are all exclusively available on more traditional outlets? Some of that comes down to producing engaging and compelling content to share throughout the season, whether that's match highlights, behind the scenes footage from training, exclusive interviews, good-humoured content or even live youth, ladies and reserve football.
eSuite can help back up this engagement with functionality to help minimise churn, including card updater services, recurring continuous authority, grace periods, retry rules and suppression windows to reduce the chances of fans accidentally leaving the service because of issues with their payment accounts or payment breakage. Meanwhile, tools like predictive churn algorithms, rules-based offers, self-care platforms and subscription holidays can also be used to convince them not to leave.
If fans do churn, the clubs already have the data and the tools to try and win them back, with push notifications and email campaigns, as well as using content snippets to tempt fans back to the other side of the paywall.
Going Global
For clubs looking to attract a global audience, eSuite also has the ability to help clubs provide their fans around the world with a seamless payment journey, as it currently processes hundreds of thousands of transactions every day against tens of millions of subscribers for our internationalised clients.
eSuite provides a wide range of options to master the entire billing life cycle of subscribers, with multiple payment types accepted and business models supported. Any given currency is supported, and sales tax calculation is flexible, enabling tax either to be included in product price listings or calculated on consumer purchases.
It can also be used as part of a process to introduce single identity management linked to a single payment wallet, allowing fans to transact freely across multiple departments within the club, whether that's retail, merchandise, hospitality, ticketing or digital.
Football clubs need to think like content owners and invest in production to keep engaging with their fans and pre-season is the perfect time to make the most of the opportunities available. eSuite offers all the required tools to manage and build upon a successful pre-season campaign off the pitch.
Get in touch with our experts to find out more and book a demonstration of what eSuite can do for your club and its fans.