IBC Show 2018 Round-Up: The Landscape of OTT 2.0

What You'll Learn:
Find out about the key learnings from 2018's IBC Conference and Exhibition, the annual event which sees the world's most influential media, entertainment & technology representatives congregate for six days to discover and debate the challenges and opportunities facing the OTT and broadcast media and entertainment industries.
---
IBC2018 was a great success. A total of 55,884 attendees walked through the doors of the RAI in Amsterdam to attend the world-renowned conference and exhibition this year, including MPP Global's OTT specialists within the commercial and product teams.
Here, we've compiled our key learnings from the highly successful event.
Think we've missed something? Tweet your takeaways from this year's IBC Show @mppglobalsolutions.
Content Everywhere Hub with Chris Welsh, VP, TV & Sport
Chris Welsh was one of three panelists who spoke at one of this year's Content Everywhere Hub panels, to discuss international opportunities when planning to go "over the top."
This introduction to delivering VOD content over the top explored the importance of customization, personalization and localization and the role that public cloud can play in giving service providers agility, scalability and infrastructure to deliver live content at scale.
Specifically, Chris contributed his expertise in OTT video operation to help deliver specific insight into the online video opportunities in the fragmented European landscape.
Click below to view the panel. Skip to 14 minutes for the beginning of the panel discussion.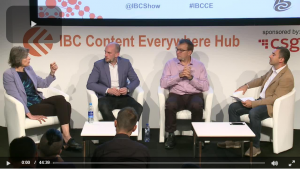 InBroadcast InSight with Ian Gray, Head of Global Channel & Strategic Alliances
Ian Gray talks about MPP Global growth during the last year including eSuite development focus and the onboarding of significant enterprise Clients and Partners around the world.  During the interview, Ian introduces his guest, Anthony Smith-Chaigneau, NAGRA Kudelski, Senior Director, Product Marketing, talking about the partnership between MPP Global and NAGRA and how the two Companies are addressing the global needs of existing and new Service Providers in OTT.
Click below to view the interview in full.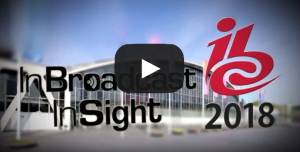 Expect More Disruptions to Rights Ownership
Disruptors are continuing to break long-established rights relationships between rights holders and broadcasters and going over the top to bring content to sports fans.
For example, Eleven Sports recently broke up a ten-year relationship between broadcaster Sky and La Liga and a partnership between BT Sport and Serie A to stream the leagues' content this season. The OTT channel has also taken the rights to control the broadcast of the PGA Championship from Sky Sports.
Subscriptions Are King in Paid Sports Content
Subscriptions will continue to grow and dominate as a more efficient means of retaining subscribers in the sports OTT space, bucking the long-standing trend of pay-per-view broadcasting.
DAZN, an on-demand streaming service exclusively offering fight sports access, has negated pay-per-view in favor of a flat-rate 9.99 USD monthly subscription.
The typical cost to view a pay-per-view boxing match is around 100 USD. While this is an efficient means of acquiring one-off revenue, subscription services present opportunities for recurring revenues and targeted marketing and DAZN's model is disrupting the US boxing PPV market.
Content Infrastructure & Delivery as Important as Content Itself
Equally as important as content is the efficient delivery of services to the customer. Customers are increasingly demanding feature-rich content, and scaling this can be challenging for delivering live OTT content across multiple regions at scale.
It's important to have elastic scaling in the cloud, to ensure resources can be allocated efficiently during peak traffic – for example, in the ten minutes before a prolific football match starts when services typically see large volumes of requests from existing users to authenticate and new users to sign up and pay.
Ultra-low latency was discussed at length at the show, and the emergence of 5G and its importance in delivering content to mobile devices. Features such as persistent login and long-running sessions can also make the content access experience more seamless and remove barriers to entry, so consumers or fans are not required to authenticate each time they access content.
A Continued Rise in Convergence
The convergence of cable and telecommunications organizations we have seen in the past aptly demonstrates the growth of convergence we're now seeing in the OTT industry.
More broadcasters than ever before are coming together to create a single service; an 'all you can eat' proposition for consumers. Our team predicts that convergence in OTT will only continue to grow, with more big-name providers snapping-up smaller services to diversify and become a one-stop-shop for consumers.
An example of this in practice is ProSiebenSat.1's recent joint venture with Discovery Communications: 7TV. The organizations converged to combine the features of maxdome, Eurosport Player, and other third-party video-on-demand (SVOD & TVOD) services to offer a centralized OTT service set to disrupt the German OTT market.
Similar models are currently being in replicated in France, and we're expecting to see this continue in markets across Europe over the next 12-24 months.
Importance of Establishing Best-In-Breed Partnerships
One of the recurring themes during the IBC2018 conference was partnerships and the importance of striking deals to boost the range of content that can be made available to consumers.
Increasingly, best-of-breed partners are coming together to provide end-to-end OTT streaming services. This bucks the typical trend of the past which saw 'jack of all trades' organizations monopolizing the market.
Netflix Vice President of Business Development EMEA Maria Ferreras told delegates that "striking partnership deals with pay-TV and telco operators has helped Netflix take its subscriber numbers to the next level".
Go OTT with MPP Global
MPP Global can help you manage the user subscriptions and billing components of setting up your own OTT video platform. We have a wealth of experience in the OTT sphere, having worked with Sky Go, NOW TV, NBCU, ProSiebenSat.1 and SF Studios to create content-first subscription and billing strategies.