MPP Global Launches the eSuite Training Academy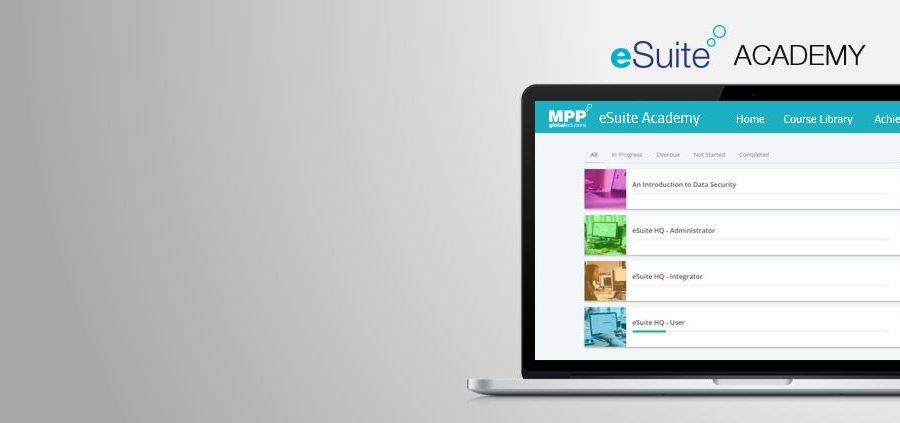 MPP Global is proud to announce a new addition to our training and support materials: the eSuite Training Academy, a new portal for video-based training material, with hours of information and step-by-step guides to building and administering your instance of implementation.
Working alongside the Support Centre, this portal gives you and your team access to a wealth of training resources and all the information you need to use eSuite to its full potential.
How Does the eSuite Training Academy Work?
Each course is structured to start with the basics and work up through topics based on the typical job roles in an organisation, from contact centre agents to project managers and developers.
Your learning is supported with bitesize modules you can easily start and stop at your leisure, while offering admins visibility to track progress across teams. This structure means you and your team can work through as much or as little as needed.
At the end of most courses is an assessment which, once completed, provides compliance certification.
What Does the Academy Include?
Instructor-led videos and diagrams
Role-based user courses
Essential compliance and security courses
eSuite development and integration courses
Practical assessments and certification.
As new functionality is released, course content will be updated and new topics introduced, so it is good practice for users to regularly revisit and review the Academy.
Who Can Use the eSuite Training Academy?
Upskill any of your eSuite users with the hands-on experience they need to fulfil any technical request or subscription model, including:
New Users
Whether you're new to eSuite or a veteran, get clear guidance in using eSuite HQ specific to your role, from marketing and sales to finance and customer support.
Integrators/Developers
Complementing our Support Centre documentation, our instructors will guide you through key concepts and workflows for configuring and integrating eSuite to your specifications.
Compliance Officers
From GDPR to PCI, get business-critical information on how to ensure your business is fully compliant with all the latest regulations using toolkits in eSuite.
Admins
Manage users and track the progress of your team's learning, while also understanding how to configure your roles and responsibilities.
Sign-Up to the eSuite Training Academy
Take the first step to upskilling your team to become eSuite pros. Contact your Account Manager to learn how you and your team can gain access to the eSuite Academy today or download the factsheet below for more information.
Download: The eSuite Training Academy Factsheet