Publishing Poll Results: Free Trials Most Likely to Convert Visitors to Subscribers

What You'll Learn:
Find out the results of a poll conducted in our most recent webinar, covering the world's most unique and effective paid content strategies for publishers.
---
On 20th September, MPP Global's Ana Lobb, VP, Media & Publishing, Europe, joined forces with Ben Edwards, our partner PageSuite's Business Development Director, to present a selection of paid content strategies and products from unique international markets.
During a live webinar, Around the World in 80 Paid… Content Strategies, Ana and Ben asked attendees to share their thoughts regarding the best promotions, offers and incentives publishers can use to convert visitors to subscribers.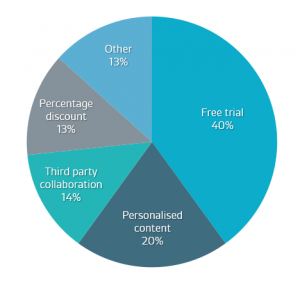 Results from the poll revealed that free trials were considered the most effective introductory offer likely to convert anonymous readers to repeat subscribers.
An overwhelming 40% of attendees cited free trials as the method most likely to result in casual visitors becoming paid subscribers.
Personalized content also scored highly, demonstrating more effective use of data and supporting the market's increased deployment of de-bundled products and services.
Meanwhile, third-party collaborations and percentage discounts provide good entry points for new subscribers, and the ability for publishers to work hand-in-hand with their advertisers.
These findings are supported by the fact that some of the most prolific and successful newspaper and magazine publishers worldwide use promotions and incentives to great effect, including:
The Times & The Sunday Times
The Times & The Sunday Times give users access to the latest news from an award-winning paper with a subscription from just £1 a week, accessible in print and online.
In July 2018, The Times and Sunday Times hit 500,000 subscribers as digital outnumbered print for the first time. Digital-only subscriptions rose 20% year-on-year to reach 255,000, according to figures from June this year.
The Times & The Sunday Times owe some of this success to the positioning of their sales on bundled subscriptions, combining print with digital access.
News UK, owner of the Times titles, said 2018 was its most successful year since the digital subscription model was launched in 2010, putting online content behind a paywall and launching enticing offers for digital audiences.
The New York Times
The New York Times made more than $1 billion in overall subscription revenue last year, with a total of more than 2.6 million digital-only subscriptions.
The publisher offers free subscription periods to new users, followed by discounted rates, as a means of attracting new subscribers and discouraging churn.
In August 2018, the publisher announced a $24 million profit, with revenue from digital subscriptions rising to $99 million in the second quarter, a jump of nearly 20% YoY. Part of this success can be owed to The New York Times' intuitive, bundled promotions and offers.
Time Magazine
Time, an American weekly news magazine and news website, boasts the world's largest circulation for a weekly news magazine. The print edition alone has a readership of 26 million, and digital readership and content figures only continue to grow thanks in large part to gift subscriptions, offers for free issues of the publication, and substantial annual subscription discounts.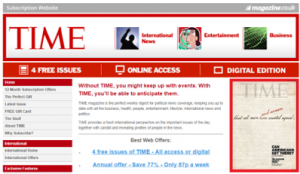 Meredith Corp. recent sold Time magazine to Salesforce CEO Marc Benioff with a $190 million price tag. The price paid was close to six times the operating profit of the magazine, thanks to its more profitable subscription model and offers; a similar publication that is only ad-supported would sell for roughly three times less than this.
McClatchy is one of the largest media companies in North America and averages circulations of 1.6 million weekly editions and 2.4 million Sunday editions, including such titles as The Sacramento Bee, The Herald Sun and The Kansas City Star.
They support digital initiatives with intelligent technology to drive audience engagement, turning casual consumers into paid subscribers.
McClatchy's member center has progressed relationships with their users, providing them with the functionality to create and launch multiple targeted marketing campaigns and incentives, such as discounted rates and introductory offers for new customers. For example, The Herald Sun de-bundled their content and launched Sports Pass: a sports-only digital subscription offering unlimited access to sports content, for $30 a year.
L'Équipe is a daily newspaper focused solely on sports content. The publication has diversified their product strategy with a digital-first focus to take advantage of changing consumer habits and digital storytelling.
In light of changing consumer behavior and the rise of ad-blockers, L'Équipe saw the necessity to look for an alternative revenue model to advertising. The publisher uses eSuite to power gifted subscriptions and third-party promotions as new customer acquisition initiatives.
Since the launch of its new innovative strategy, L'Équipe has experienced significant growth and development across its digital services. Within three years of the launch, the publisher has reached over 300,000 paying readers.
35% of L'Equipe's entire revenue now comes from gifted subscriptions, while third-party partnerships with Orange and PlayStation have provided valuable data collection and conversions. Using voucher codes, L'Equipe created a special offer for customers who bought FIFA.
One of the most interesting product developments employed by Amaury is the micro-payment model, and the ability for consumers to buy individual articles or purchase pre-paid credit to draw down. The cost of an article is the same to cover price for the full newspaper, and the initiative now accounts for 10% of reader revenue online.
Ana Lobb, VP, Media & Publishing, MPP Global, commented: "I think it's fascinating how product development in publishing is changing from five years ago, when many publishers were still deciding whether to charge for digital content, to where we are today.
"The innovation in technology and increased ability for publishers to collect data and understand their customers better than ever before is providing opportunity to create new, brand-based digital experiences, and sustainable, complementary print and digital business models.
"Whilst I agree that free trials are often the tipping point for customer acquisition, I wonder whether this scored more highly since these are the easiest models to deploy and potentially the most tested. And don't forget, the offer itself is just the tip of the iceberg; pricing strategy, content engagement and personalized user experiences all play into the overall success.
"What we can say, following the research and webinar, is that product development has never been so diverse. To grow, publishers will need to invest in technology that supports operational efficiency, including flexible and agile product and offer launches."
Find out more about how you can integrate some of the most effective paid content strategies from around the world into your subscription offering by watching the webinar, hosted by Ana Lobb and Ben Edwards.