Self-Gifting and Beauty Boxes: the retail phenomenon
Usually associated with Christmas shopping but now prevalent all year round, self-gifting is the phenomenon of purchasing gifts for yourself, often as a form of self-reward.
A Changing Demographic
Self-gifting has become widely accepted, particularly amongst Millennials and Generation Z, and has been perpetuated further by fabricated retail events such as 'Singles Day' on 11th November. In fact, about three-quarters of shoppers said that when they are online buying gifts for others, they also like to self-gift. Of that group, shoppers under the age of 35 were 40% more likely than Generation X or Baby Boomers to self-gift.[1]
Retailers continue to tap into this growing trend and changing demographic: in the US, singles now outnumber married adults and have a higher per capita spending. This year, Singles Day is expected to generate annual sales in excess of $20 billion, more revenue than Black Friday and Cyber Monday combined.[2] Similarly, during Single's Day in the UK, £11.28bn was spent and Topshop saw sales surge by over 900%.[3]
Self-Gifting Subscriptions
The retail industry has moved full circle; before large supermarkets staple foods were delivered direct to the consumer. Now consumers are moving back towards the direct to their doorstep model, bypassing supermarkets and department stores.
Subscription services offer considerable benefits to both parties: eCommerce and multi-channel retailers can harness digital intelligence to learn about their customers, whilst consumers benefit from a more innovative way to self-gift.
Beauty subscription boxes put the element of surprise back into self-gifting, moving away from the overwhelming abundance of choice offered in department stores and other high-street shops.
Birchbox
Birchbox is a New York City based online monthly subscription service founded by graduates of Harvard Business School. It sends its subscribers a box of four to five selected samples of makeup, or other beauty-related products each month.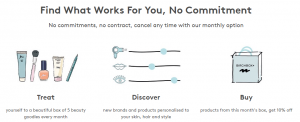 Birchbox has cleverly combined the elements that appeal to Millennials in this rapidly changing sector: no contract or commitment, personalisation, an element of surprise and the notion of treating themselves. According to Forrester research, 56% said that due to investment into personalisation, their repeat purchase rates have 'increased somewhat' and 10% said they had 'increased significantly'.[4]
GLOSSYBOX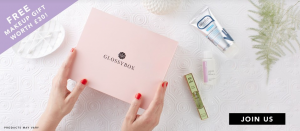 GLOSSYBOX was recently acquired by The Hut Group, who had already seen huge success with their Lookfantastic Beauty Box, MyGeekBox and PopInABox brands.
Beauty subscription boxes such as these are founded on the relatively new phenomenon of self-gifting and reflect the desires of an ever-changing market. The ongoing emergence of new subscription beauty boxes also demonstrates the popularity of the concept and the willingness to spend discretionary incomes on getting a taste of luxury products for less. Retailers that are tapping into this culture of a monthly reward see comparatively low rates of churn as consumers continue to crave the next month's surprises and are rewarded with products worth over £72 for a monthly subscription fee of £13 (figures from The Hut Group's Lookfantastic Beauty Box 'The Birthday Edit' September 2017).

Self-gifting is often associated with personal or professional achievements, which both contribute to fuelling confidence and happiness.
Subscriptions and Digital Innovation
Retailers need to keep up in the era of the digitally obsessed shopper: more than one in five (23%) consumers are digitally obsessed, making almost all their purchases online, and inclined to shop with digitally advanced retailers. In fact, 60% say they would be more likely to shop with a digitally innovative trader.[5]
MPP Global is experienced in supporting innovative retail subscription strategies through our flexible cloud platform, eSuite. The platform tightly integrates with a retailer's in-store system and supply chain, securely sending files to distribution warehouses and accommodating multiple delivery options, returns and in-package marketing literature.
Case Study
Since 2016, MPP Global has worked with a major high street retailer to provide a solution to manage subscriptions for their physical product catalogue, both protecting and maximising the lucrative revenue stream. As standard, eSuite enables subscription trial periods, percentage, fixed price discounts and group discount offers. This retailer now expects their subscription revenues to increase by 20% year-on-year over the next 5 years.
Self-gifting via subscription does not have to stop at beauty; the opportunities are hugely varied whether it be related to a customer's favourite hobby, food or even pet.
References
[1] http://internetretailing.net/2017/08/digitally-obsessed-consumers-likely-shop-digitally-advanced-retailers/
[2] https://www.forbes.com/sites/kathleenkusek/2016/11/09/opportunity-for-retailers-to-sway-singles-self-gifting-is-the-next-big-thing/#7162101624b6
[3] www.theguardian.com/media-network/2016/nov/08/singles-day-new-black-friday-british-retailers-waitrose
[4] "The State of Retailing Online 2016: Marketing and Merchandising", Forrester Research, Inc., October 27, 2016
[5] http://internetretailing.net/2017/08/digitally-obsessed-consumers-likely-shop-digitally-advanced-retailers/
Get in touch with our retail specialists for a quick chat on how to generate and grow recurring revenues.
How Can Media Companies Make the most of Black Friday?