Takeaways from the World Publishing Expo in Berlin: 5 ways to keep up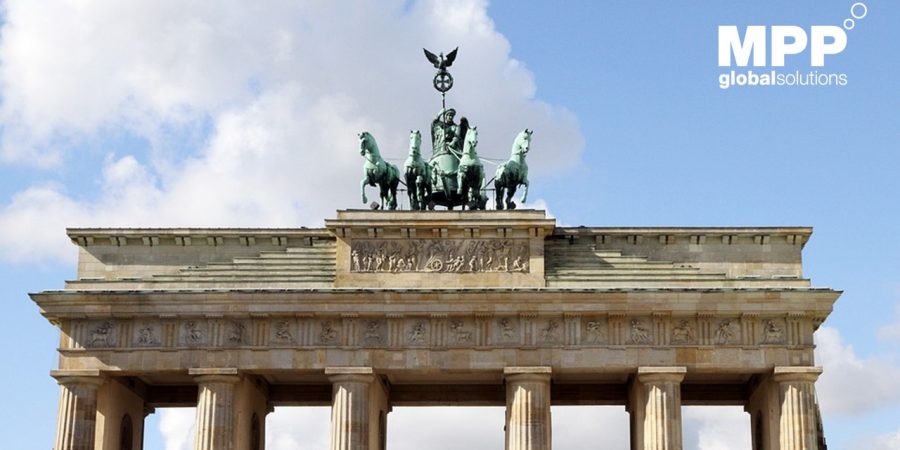 The MPP Global Publishing team have just returned from exhibiting at this year's World Publishing Expo & Digital Content Expo summit in Berlin. Publishers, experts and industry leaders from around the world gathered to share knowledge and insight into the future of publishing.
Many of the keynote speakers focused on their role in maintaining the integrity of professional journalism and healthy business bottom lines in a competitive, digitally-led environment.
Fake news was inevitably a hot topic coupled with the increasingly practical uses of AI, machine learning, robot journalism and the need to personalise and adapt user experiences in real-time. A common theme throughout was also agility; publishers need to learn and implement ideas rapidly.
MPP Global delivers eSuite, the market leading cloud platform to identify, engage and monetise digital audiences. MPP Global has deep roots in the media industry and a client roster that includes some of the biggest publishers in the world: The Telegraph, DMG Media, Amaury Media, News UK, McClatchy, The Mainichi, Bonnier and Styria. 
The Year Ahead: MPP Global's pick of how to keep up
Innovate

Grow Digital Subscriptions

Personalise – One Size Does Not Fit All

Retain Existing Customers

Avoid the Monolith
The Year Ahead: MPP Global's pick of how to keep up
The myriad of challenges facing publishers show few signs of abating. A WAN-IFRA round-up survey of professionals highlighted problems including competition for advertising spend from Google and Facebook, shifting audience consumption patterns, rapid technological advancement, new data protection legislation and political instability.[1] The greatest posed, however, is reluctance to innovate.
Innovate
Every publisher's content and audience differs. Finding the most appropriate business model is best done by experimentation and innovation. Launch something new, see how it works and scale up if it does. eSuite can help you rapidly launch new products and services.
During his talk at WAN-IFRA, Matthew Monahan, Director of Arc Publishing at The Washington Post, also promoted this approach to content monetisation. Backed up by flexible and agile technologies, The Washington Post supports a strategy of 'try it, see if it works and scale up if it does' and it seems to be working – they grew digital subscriber numbers by 75% in 2016, which was also helped by huge investments in infrastructure.
Often publishers approach monetisation and business models as if they need to be set in stone from the beginning. But with a platform built on flexibility and agility, offers, incentives and campaigns can be launched in real-time and approaches can be continually refined.
At IFRA/DCX, MPP Global's VP of Publishing and Media, Ana Lobb, delivered a talk on the '3 pillars of Real-Time Subscription Management' (speed, agility and cost) and stressed that, whilst print is still growing, the key to success is the technological readiness of both print and digital platforms.
Grow Digital Subscriptions
Nancy Lane (President, Local Media Association) discussed the day when print and ad revenue is zero. Certainly a shocking thought, but as the graph below shows, print advertising and circulation are still the dominant source of publishers' revenues. Focus upon growing digital subscriptions and direct customer revenues is vital to prepare for the future.
In addition, in an ocean of clickbait and churnalism, readers are increasingly seeking content they can trust from brands they respect and are willing to pay for it in the form of a subscription.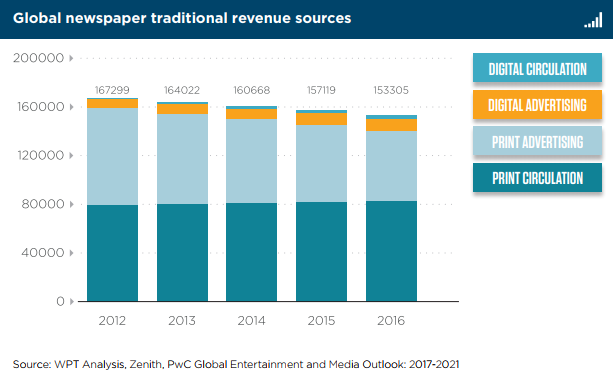 Personalise – One Size Does Not Fit All
Print needs to engage as broad an audience as possible. Times have changed from print editions having to appeal to millions of customers, regardless of age, inclination or interest. Digital content, on the other hand, can be automatically tailored and segmented much more effectively, so visitors can pay for the content they enjoy.
Smart publishers are using behavioural data along with first party registration data to offer personalised campaigns and incentives.
Data driven customer acquisition will become the norm in a few years and it is vital that digital intelligence is used to its full advantage. After all, one size does not fit all.
Retain Existing Customers
Too often, publishers focus on attracting new readers rather than engaging their current readership. Growing subscriber numbers certainly make headlines and satisfy board members and shareholders, but attracting new customers costs 5 times more than retaining existing ones.[2]
At WAN-IFRA, Esra Dogramaci spoke on the tendency of executives to focus on the wrong metrics: 'how many views?', 'how many impressions?', 'how many clicks?'. Rather, they should be asking themselves how long people remained on a page. For Dogramaci, retention is more important than impressions.
To build a loyal and profitable following, look at what you can do with your existing user base. MPP Global has helped publishers to combat involuntary churn using card updater technology as well as machine learning techniques, which enables publishers to identify consumers most likely to churn with up to 90% accuracy.
Avoid the Monolith
Lajos Lange, VP Engineering & Operations at WeltN24, bemoaned the disparate platforms in his purview. Increasingly, it seems the days of hulking, bespoke, in-house software platforms are coming to an end. This harks back to the 'Build Vs Buy' dilemma. Skip the headache of maintenance and get your content monetisation platform up and running as quickly as possible by buying in an advanced SaaS platform that can also integrate with some of your existing systems. Buying in a platform with an existing framework built on PCI-DSS Level 1 compliance is also advantageous with GDPR looming. eSuite is easy to use, quick to deploy and simple to manage alongside your other platforms.
Interested in bridging the gap between print and digital and significantly growing sustainable revenues?
Get in touch for a quick discussion with our publishing experts on how your company can thrive in the industry.
Also, see how eSuite future proofed L'Équipe's revenue. MPP Global worked alongside L'Équipe to successfully launch an innovative online content strategy and adapt its digital service offering. Within 3 years of the launch, the publisher has reached over 300,000 accounts.
---
Book a Meeting
---
References
[1] World News Publishers Outlook 2017 – Innovation Research Group & WAN-IFRA, p. 6.
[2] www.invespcro.com