The Importance of Internationalization for Sports Brands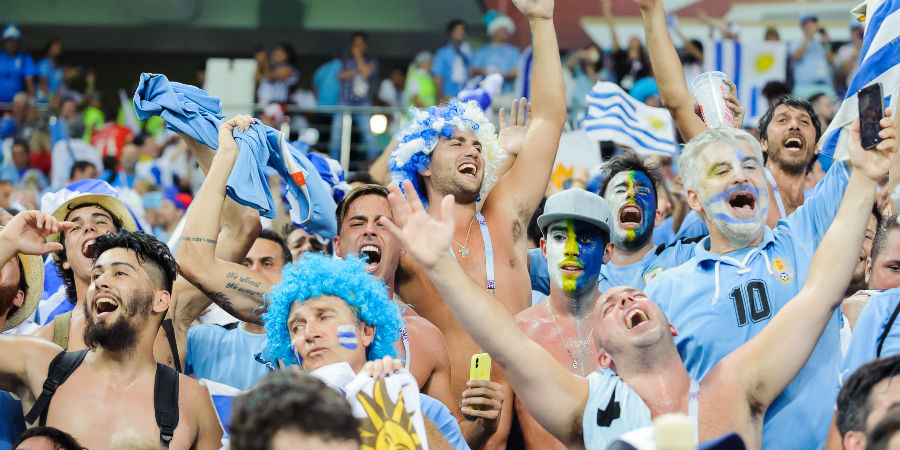 What You'll Learn:
Why sports brands with an eye on a global audience need to work hard to localise their service and payments to ensure the best possible experience for their fans, wherever they are.
---
Modern sports teams have international audiences and the days when they could be kept engaged with a pre-season tour every few years have long gone. To keep these passionate fans onboard means treating them just as seriously as those who come through the turnstiles week-in, week-out, it means engaging with them constantly and in their own language.
Creating fan personas can help to understand the wants and needs for all supporters around the world, from those who are local and attend matches regularly to those who live further away and go twice a year to those on the other side of the world who might see the team play once or twice in their lifetimes.
These fans principally care about the team and want to be kept updated with the latest news, video clips and interviews, and all of them will want to spend money on merchandise, but the levels and expectations of how much they will be willing or are able to pay for these services and products could be very different.
For example, a sports streaming service will need to be localised for the various audiences it's aimed at to ensure that fans can and will engage with it. For some territories that might mean a paywall, for others simply locking it behind a survey and others a subscription without a fee. There's no one-size-fits-all approach when dealing with an international audience, so be prepared to tailor your offer and strategies as required.
International Payments
Part of engaging with fans around the world is ensuring that you are enabling them to make payments in the way they would prefer. With over 300 payment schemes in operation around the world, it is more important than ever for clubs and brands to understand which specific payment methods outside of traditional credit and debit cards will help them to gain and retain their fans more effectively.
The ability to implement payment methods with high-penetration in local markets is particularly critical to success. There is a range of payment methods available, including Credit and Debit Cards, Bank Transfers and eWallets, Carrier Billing, In-App Purchasing and many others. Not all of these will be relevant in each market, but this is where OTT providers need to be flexible in their approach to deliver a localised experience for its consumers.
This data from WorldPay Global Payments Report, Nov 2017 demonstrates the breakdown of payment methods from around the world and how it is expected to evolve in coming years: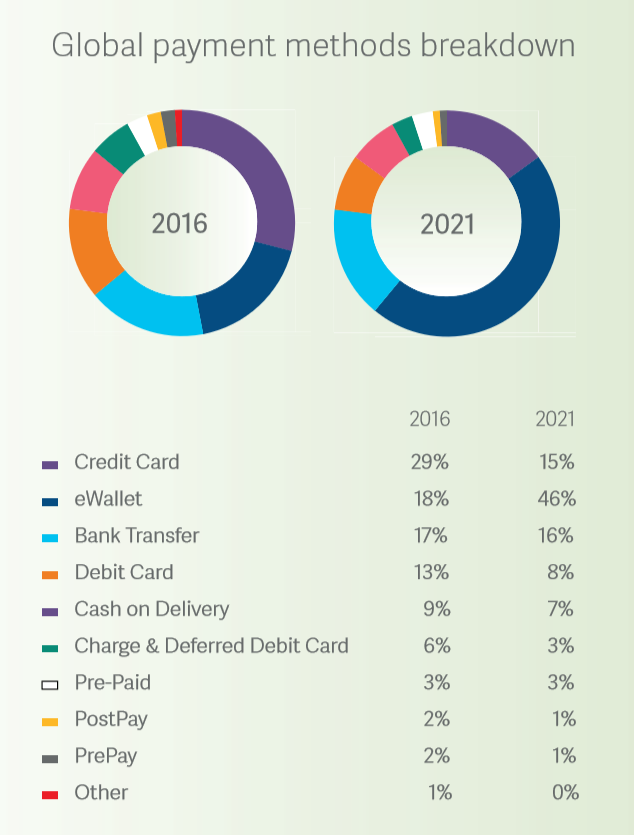 WorldPay Global Payments Report, Nov 2017
Functionality to support debit and credit card payments is essential for almost all content-based services, but brands can't afford to ignore the growing prevalence of alternative payment options. Below are examples of some alternative payment methods used in different territories worldwide:
Europe
In Europe, bank transfers and Direct Debits are the preferred SME payment methods for online use. It's therefore important to accept SEPA (Direct Debit) in Eurozone countries, and online banking in the Scandinavian and Eastern European regions.
In Germany, three-quarters of shoppers prefer not to pay with credit cards. Bank transfers and service providers such as Sofort and SEPA are set to continue to dominate the German payments landscape, while the popularity of cards is expected to stagnate.
In the Netherlands, cards continue to claim a modest share of the eCommerce landscape dominated by iDEAL; an inter-bank system covered by all major Dutch consumer banks, boasting 60% of all eCommerce transactions, enabling shoppers to easily use their bank account for online purchases.
Asia Pacific
The leading online debit payment method is Carrier Billing, widely used and offering an alternative to credit and debit cards.
In South Korea, rapid growth in mobile payments is one of the factors loosening the grip of credit cards.
eWallets, or mobile wallets, are purpose-built to make smartphone payments easy. By 2021, it is predicted that eWallets will be a preferred payment method across the globe – particularly in Europe, the Middle East, Africa, Asia Pacific and North America.
Examples of eWallet adoption include:
Apple Pay – available in the US, Canada, Denmark, France, Finland, Italy, Spain, Sweden, Switzerland, Turkey, UK, Brazil, Australia, Hong Kong, New Zealand, Singapore.
Google Pay – available in the US, Belgium, Ireland, Poland, UK, Australia, Hong Kong and Singapore.
Alipay, Union Pay and WeChat Pay – dominant in China and growing significantly in popularity; Visa and Mastercard make up a tiny proportion of online payments.
Often, when it comes to payment types, localization can be tied in with other forms of fan engagement to work to the club's benefit.
The Winnipeg Jets ice hockey team reward their fans with a loyalty programme that is also tied into pushing the types of payment they prefer to receive for tickets. Fans get Jets Points when they buy season tickets, which they can redeem for merchandise, memorabilia or other fan experiences, and a regular renewal by credit card earns them 3,000 of these points. However, the Jets would rather receive checks to avoid paying the 1.5% fees, so any fan paying by check gets 6,000 Jets Points instead.
Engaging a worldwide fan base is essential for any sports brand that wants to keep on growing, and there's many ways to achieve this. Primarily, you need to ensure that you are treating all of your fans as important, rather than focusing on the easiest to reach. Not every fan can attend live games and events, but every fan should be able to feel close to the action, whether that's through watching videos or buying merchandise.
MPP Global have a rich history in the sports world, working with NOW TV, ATP, Sky Sports, Juventus FC, Leeds United, PDC, Eurosport and Fulham amongst others. Get in touch with our sports and OTT specialists to discuss strategies on how to develop, manage and measure fan engagement worldwide.
Read More: Fan Engagement for Sports Brands
Sports brands need 24/7 global engagement now to maximize lifecycle value from fan relationships and this whitepaper will demonstrate some of the best ways to achieve this, looking at the factors affecting fan engagement in the sports world, from the challenges that internationalization brings to the tactics that can be used to engage with a millennial audience.
Download the Fan Engagement for Sports Brands Whitepaper