Latest Research Reveals the Two Biggest Challenges for Publishers Operating Print, Physical & Digital Product Strategies
MPP Global reveals the results of new research conducted with publishers, demonstrating the biggest challenges they face when trying to combine print and digital product offerings.
In the research*, MPP Global asked publishers to share their "biggest challenges when trying to manage print and digital bundles." Results from the survey showed that 62.5% of publishers rated Financial Reporting and Entitlement & Fulfillment Management as the most challenging aspects of combining print and digital, while 50% identified Customer Data Consolidation and 25% identified Centralising Distribution Channels as their core challenges.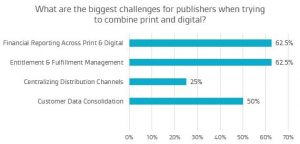 The results did not come as a surprise to MPP Global's publishing experts; the digital-only subscriber management and billing systems used by many publishers are unable to successfully cater for print subscriptions, and vice versa. Managing digital entitlements and physical fulfillments forces many publishers to adopt separate platforms or operate a complex tech stack, taking extra operational resource and incurring additional overhead costs.
MPP Global's publishing client base has a wide range of requirements in terms of when and how they want to make products available to customers. Digital and physical products are inherently different to manage – for instance, print fulfillment has a longer lead time than digital – so support and flexibility is needed to configure custom entitlements and fulfillments.
In terms of financial reporting, many publishers encounter challenges when issuing part refunds on bundles, attributing tax codes to products for different regions, bundling products and offering digital payment methods, such as PayPal, in addition to traditional, older methods including offline payments. Print and digital products each carry unique tax rates and codes depending on country and region, so this information must be available on an individual product level to ensure accurate, omnichannel financial reporting with a clear breakdown of item-level pricing, currencies and tax rules. The lack of a centralized platform from which to manage this results in inaccurate and unreliable insights from financial reports, and a lot of manual work to manage reconciliation and deferred revenue reports.
MPP Global has worked with its publishing clients to develop a rich set of features for eSuite, enabling the successful launch of print, digital and bundled packages using a single cloud platform. This enables any publisher to quickly and easily deploy new products and services, accessing a single, central system for customer, fulfillment, entitlement management and reporting, with a wide range of global payment options, including offline, local and alternative payment methods.
By configuring issue-based schedules against products and bundles in eSuite, publishers determine when and for how long a product fulfillment or content entitlement is available. Depending on their requirements, this could be for a daily newspaper, weekly magazine, weekly digital pass, access per article or custom. eSuite's flexible fulfillment and entitlements engine then intuitively checks and grants subscribers access or fulfills their order in accordance with the Issue Schedules.
MPP Global's eSuite supports standard, emerging, local and offline payment types for digital and print, with bundled products viewable as individual line items to ensure accurate financial reporting based on tax codes and pricing. Support Agents can issue refunds against individual line items within a bundle or an entire order, either the full or partial amount, while scheduling deferred revenue reports for physical and digital products.
Paul Herron, VP, Publishing, North America, said:
"There is a perception that print is dead, but print circulation has only actually declined 0.5% in the past five years. On average, print still represents nearly 20 times more revenues than digital globally.

"Many publishers already sell bundles, but the devil is in the operational detail, which is what we have addressed over the past 12-18 months with over 500 man-days committed to developing and automating subscriber management processes. With a single, centralized solution, publishers can reduce cost of ownership, improve operational efficiencies and drive innovative product strategies in real time. This ground-breaking product extension brings digital flexibility and speed to publishers who want to leverage full omni-channel strategies that incorporate print and physical products."
*Results obtained from a survey launched during MPP Global's webinar, Bridging the Innovation Gap From Print to Digital Subscriptions.
To find out more, request a demo of eSuite