OTT Subscriber Acquisition Strategies for a New Reality
With traditional pay-TV subscriptions and broadcast viewer numbers falling away, particularly in the US, it would be easy to reach the conclusion that COVID-19 lockdowns and stay-at-home orders have accelerated our arrival at the tipping point where on demand and OTT become the dominant models for video entertainment consumption. The truth, however, is that the road ahead for OTT brands in an increasingly crowded and competitive market remains uncertain, with subscriber acquisition particularly challenging. This playbook covers crucial topics, including:
Customer-centric approaches
OTT monetisation business models that work
Innovative offers & incentives
Engaging subscribers with tailored packages
Removing payment friction
Measure & optimise conversion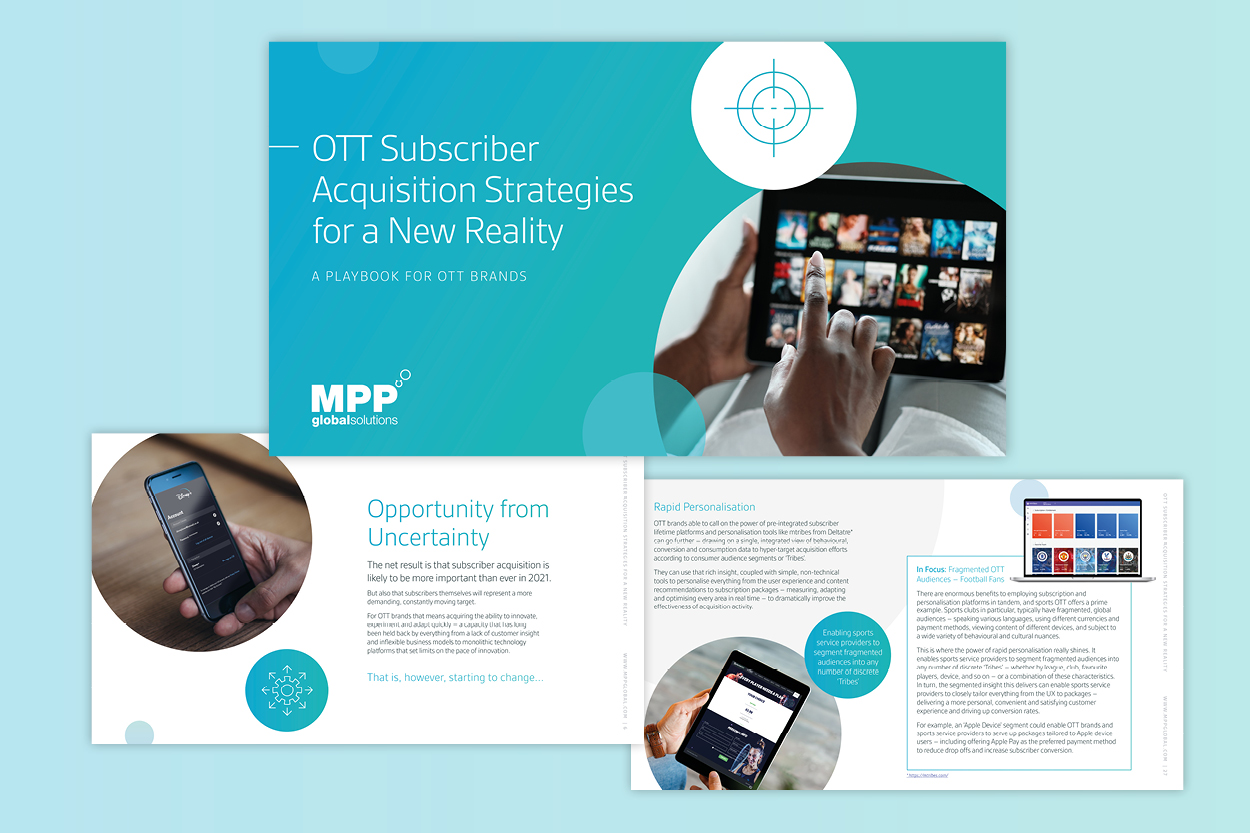 What you'll learn in this guide
Customer-centric Innovation
In a fast moving, competitive market where consumer needs are constantly shifting, the ability to differentiate is crucial. We know that content is king, but when it comes to subscriber acquisition there are multiple competitive levers to pull – in the overall VOD model, in offers and incentives, in subscription packaging and in the payment experience.
Innovate & Adapt
Attracting more customers into the subscriber acquisition funnel is not just about choosing the right model. It is also about offering choices that meet their needs within individual models.
Hybrid & Blended Models
The ability to be flexible in using high value, premium content to attract new subscribers is one of the most important competitive levers. For instance, extending a standard SVOD model, by adding standalone options to access premium content is a great way to drive new revenue, but also enable one-time users to experience and explore the service while gathering data to feed into wider acquisition campaigns.
Focus on Customer Needs
By the time consumers reach the stage in their journey when they're ready to browse subscription options, the majority will either do so with a genuine purchase intent or are willing to be persuaded. But all that work to attract and engage will be undone if those potential subscribers do not immediately perceive value and relevance in the options presented to them.
Download the Subscriber Acquisition Playbook for Broadcast & OTT