MPP Global Launches the eSuite Training Academy
MPP Global is proud to announce the launch of our new video-based platform training portal: the eSuite Training Academy. The portal works alongside MPP Global's Support Centre for eSuite to provide clients with all the information needed to use the platform to its full potential.
The eSuite Training Academy is designed to offer a variety of content resources at eSuite users' fingertips in a series of bitesize modules, covering topics ranging from the eSuite API, payment methods and workflows, to best practice security and subscriptions configuration.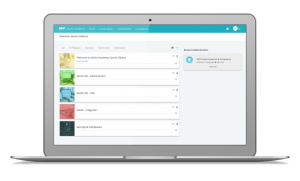 With over ten hours of video, diagrams and practical exercises, organizations using eSuite can invite their entire team to learn about the areas of the platform they use the most.
Each course is structured to start at the basics of a topic and subsequently work through subjects based around specific job roles, such as customer support, administrators, compliance officers, marketing and sales, project managers and developers. Users can start and stop courses at their convenience, while administrators have the visibility to track progress across teams.
Instructor-led videos guide users through key concepts and workflows for configuring and integrating eSuite, offering the hands-on experience required to fulfill any technical request or subscription model. From GDPR to PCI, users can also access business-critical information on how to use eSuite to ensure their business is fully compliant with the latest regulations.
Paul Johnson, CEO and Co-Founder, MPP Global, commented: "The eSuite Training Academy will be an invaluable tool for our new, existing and prospective clients as they start to become familiar with how the platform operates, and how to get the most out of it in their day-to-day roles.

"eSuite is a comprehensive platform and we want our clients and all end users to leverage its capabilities as best they can, and with access to a rich library of training videos, online courses and certifications, the eSuite Training Academyhelps our clients to do just that.

"We're already receiving great feedback from eSuite users about how useful the Academy has been for them and are excited to build this resource further as eSuite's functionality continues to develop."
Click here to find out more about eSuite.