eSuite Product Update | May 2018
The latest key developments from eSuite, the world's smartest Subscription & Billing platform.
Our quest to offer unrivaled functionality under a single roof continues, with huge innovations over the past few months coming out of eSuite SDK web-app, eSuite API, payment coverage, data protection, as well as our management console, eSuite HQ.
To make it easy to digest, we've summarized the major updates below:
SPOTLIGHT FEATURE
Introducing eSuite SDK Darwin (v4)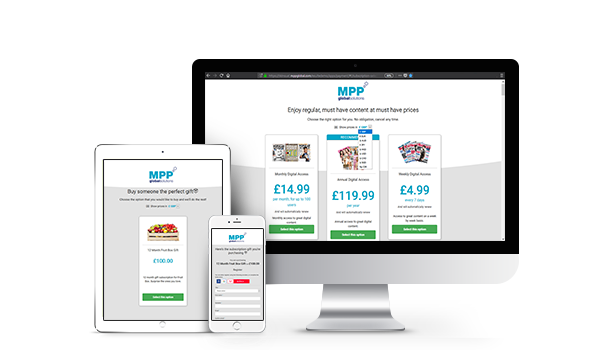 We're proud to announce the latest version of eSuite SDK, our out-of-the-box, easy- integration web application consisting of several customer checkout journeys. This new version has tons of new features to explore. The development is split into 3 core pillars:
New Journeys – Tap into gift and account group subscription journeys to boost recurring revenues
New Features – Take advantage of subscription holidays, social sign on & GDPR compliance
New Design – A fully responsive redesign, extremely adaptable & conversion optimized
ICYMI: eSuite SDK enables clients to launch a range of pre-built customer checkout and self-care journeys within minutes.
Want to find out more? Read the latest product announcement or get in touch to get a live demo.
FEATURE DEVELOPMENTS
Amazon IAP & Google Play
eSuite's Native billing API has been extended to incorporate Amazon IAP and Google Play, on top of our existing integration with iTunes app store. This API enables our clients to replicate subscriptions purchased on their iOS, Android and Windows Devices and create a continuously updated account & subscription within eSuite. This opens up the opportunity for our clients to offer a multi-device subscription beyond the single app store, without having to create additional subscriptions per-device. It could also serve as an opportunity to market to those customers to incentivize them to move to a direct eSuite subscription once their app-based subscription ends, potentially reducing any app store commission fees.
Carrier Billing: Boku & Sony Payments
Carrier Billing, or Direct Carrier Billing (DCB), is a payment method which enables customers to purchase a one-time or recurring product or service via their contract with a mobile carrier (their mobile phone contract). The bill for the product or service is added to the existing bill, and typically appears as a single line item on a bank statement. eSuite has integrated with some of the world's major carrier billing providers, enabling our clients to tap into Carrier Billing across the globe as a new seamless payment method during their subscription checkout journey.
GDPR Compliance
The General Data Protection Regulation (GDPR) replaces the 1995 EU directive on data protection, with all 'Data Controllers' requiring a legal basis to process data.
MPP Global are fully committed to ensuring maximum security and data protection, and already operate to Level 1 PCI-DSS regulations. All data held in the eSuite platform on our client's behalf (including personal data) is secured to the same level as sensitive payment data. eSuite's 'Data and Security Standards' protect the privacy of personal data and offers clients the assurances needed for such regulations.  As a Data Processor, eSuite drastically reduces your GDPR obligations. Benefits include:
Best practice data protection standards
Rich user role-based permissions
Advanced reporting and data exports
Clear data record visibility & encryption
Greater control for the consumer
Subscription Holidays
eSuite now supports the ability for customers to pause their subscription for a specified time period.
During the subscription setup progress, clients can now define a series of rules for a customer to trigger the availability of subscription holidays for their subscription. This includes holiday allowance, notice periods, periods before holidays become available, minimum and maximum holiday period at any one time and which entitlements to apply any holidays to.
There are 3 ways a subscription holiday can be applied.
Support Agent – against each customer within eSuite HQ, there is a new section within 'Subscriptions' for support agents to view, edit and add holidays.
Customer Self-care – if the client is using eSuite SDK, there is now a new section within 'Subscriptions' as part of the Darwin release, which enables customers to view, edit and add holidays to their account.
API – a series of endpoints have been created for developers to create, retrieve, update and delete a subscription holiday.
Parent:Child Enhancements
The Parent/Child behavior has been extended to allow users of eSuite HQ to see more information when they have a Parent/Child client setup, increasing the flow of accessing information regarding consumers and their purchases.
From a Parent point of view, users with the correct permissions, can now view information regarding subscriptions and offers on a child instance in a read-only view. This gives the parent access to view the performance and setup of their customer journeys in order to make more informed decisions on additional child or parent instances.
Likewise, from a Child point of view, the Parent can now open up access for certain child user roles to view – in read-only – particular information on the parent instance, to again, make more informed decisions for subscriptions and offers.
Virtual Terminal Revamp
We thought it was time that the Virtual Terminal flow had a face lift! The new interface is now on a page of its own within eSuite HQ, with the same functions, but giving greater functional control, with the aim of speeding up the end-to-end flow. You no longer need to search for a customer and then click the VT button – simply open VT and search for an existing customer from there or create a new customer. Searching for Subscriptions and Products is more intuitive, and the adding/editing of payment details is also clearer and a much quicker experience, while also adding functionality such as account groups and custom parameters.
In summary, we've placed huge emphasis on the UX of the Virtual Terminal, in order to reduce support overheads and keep the interface fresh and easy to navigate.
eSuite API v10
This major API release consists of several exciting features and a few improvements along the way. Notable features include the ability to pass shipping & invoice addresses during the purchase flow, the ability to purchase a gift subscription and redemption, as well as the functionality to append a marketing 'flag' against a customer account to state a customers' marketing opt-in/out preference. Improvements have also been introduced, mainly to return additional information surrounding BACs and SEPA wallets, as well as the removal of legacy endpoints.
A feature capture your eye?
Arrange a live 1:1 demonstration: