Think Locally to Grow Globally: Understanding the Payments Landscape for International OTT Roll-Outs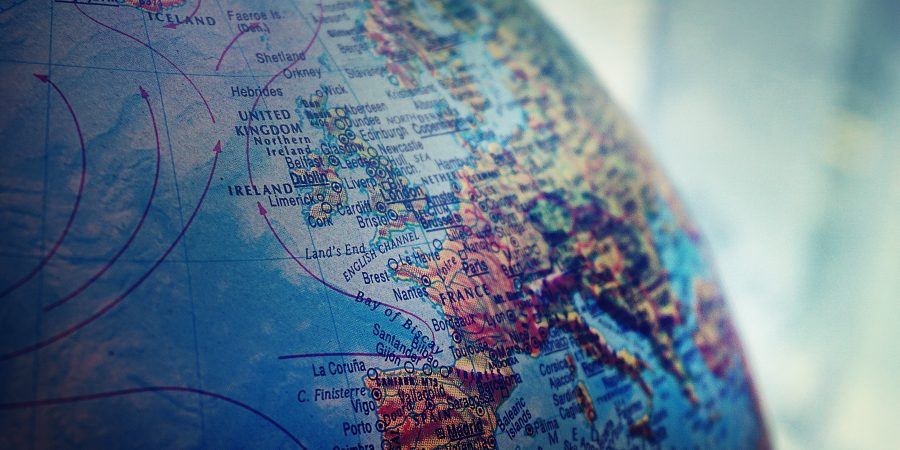 What You'll Learn:
As OTT services increasingly move into new regions, Chris Welsh, VP, TV & Sport, Europe at MPP Global, champions the localised approach to consumer-facing payment options for successful international roll-outs.
---
Media businesses of all sizes are expanding across borders to reach audiences around the world.
However, for organizations considering launching their brand internationally, it's important to first think locally and understand what works for subscribers in one region doesn't necessarily guarantee success in other markets. For example, many sports rights holders can generate traffic when launching in new territories, but often struggle to convert because they can only provide nominal payment options.
Researching preferred localized services and including these in your internationalization strategy reduces these potential barriers to entry, improving buying experiences for consumers in local markets.
There are many essential considerations for the successful internationalization of any brand, including:
Region-specific business models
Languages
Payment types & methods
Currencies
Sales tax management
Content rights & portability
International vs domestic acquiring
Product management
Price points
Privacy, security and data regulations.
OTT service providers and rights holders need to conduct deep and thorough analysis on all these areas to be successful. Further to that, they must adapt their product offerings and UX to acquire their targeted volumes of paying subscribers.
The Global Payments Landscape
With over 300 payment schemes in operation around the world, it is more important than ever for organizations to understand which specific payment methods outside of traditional credit and debit cards will help them to gain and retain their customers more effectively. The ability to implement payment methods with high-penetration in local markets is particularly critical to success.
There is a range of payment methods available, including Credit and Debit Cards, Bank Transfers and eWallets, Carrier Billing, In-App Purchasing and many others. Not all of these will be relevant in each market, but this is where OTT providers need to be flexible in their approach to deliver a localised experience for its consumers.
Alternative Payment Methods
Functionality to support debit and credit card payments is essential for almost all content-based services, but modern businesses can't afford to ignore the growing prevalence of alternative payment options. Below are examples of some alternative payment methods used in different territories worldwide:
Europe
In Europe, bank transfers and Direct Debits are the preferred SME payment methods for online use. It's therefore important to accept SEPA (Direct Debit) in Eurozone countries, and online banking in the Scandinavian and Eastern European regions.
In Germany, three-quarters of shoppers prefer not to pay with credit cards. Bank transfers and service providers such as Sofort and SEPA are set to continue to dominate the German payments landscape, while the popularity of cards is expected to stagnate.
In the Netherlands, cards continue to claim a modest share of the eCommerce landscape dominated by iDEAL; an inter-bank system covered by all major Dutch consumer banks, boasting 60% of all eCommerce transactions, enabling shoppers to easily use their bank account for online purchases.
Asia Pacific
The leading online debit payment method is Carrier Billing, widely used and offering an alternative to credit and debit cards.
In South Korea, rapid growth in mobile payments is one of the factors loosening the grip of credit cards.
In Japan, despite that it's the world's third-biggest eCommerce market, cash on delivery is still a popular payment method. Konbini allows customers to pay for online purchases in 24/7 convenience stores, while the local credit card JCB is also popular.
eWallets on the Rise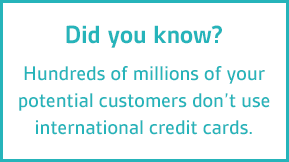 eWallets, or mobile wallets, are purpose-built to make smartphone payments easy. By 2021, it is predicted that eWallets will be a preferred payment method across the globe – particularly in Europe, the Middle East, Africa, Asia Pacific and North America.
Examples of eWallet adoption include:
Apple Pay – available in the US, Canada, Denmark, France, Finland, Italy, Spain, Sweden, Switzerland, Turkey, the UK, Brazil, Australia, Hong Kong, New Zealand, Singapore.
Google Pay – available in the US, Belgium, Ireland, Poland, the UK, Australia, Hong Kong and Singapore.
Alipay, Union Pay and WeChat Pay – dominant in China and growing significantly in popularity; Visa and Mastercard make up a tiny proportion of online payments.
eSuite: Supporting International Payments
To ensure consumers benefit from the most seamless payment journey, organizations need to power their subscription management and recurring billing process with a secure, integrated and flexible SaaS platform.
eSuite currently processes hundreds of thousands of transactions every day against 20 million+ subscribers for our internationalized clients.
eSuite's Revenue & Billing module provides a wide range of options to master the entire billing life cycle of subscribers, with multiple payment types accepted and business models supported. Any given currency is supported, and sales tax calculation is flexible, enabling tax either to be included in eSuite product price listings or calculated by eSuite on consumer purchases.
With eSuite, consumer payments can be made with a wide range of payment types including: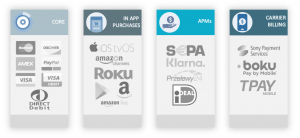 ---
Take the First Step to Kick-Starting Your Internationalisation Strategy
MPP Global's experience in delivering mission-critical services for international OTT services and enterprise media and sports rights holders puts us in a unique and informed position to provide guidance on this topic.
Discuss strategies for internationalisation for your OTT company today.
Book a meeting with our VP, TV & Sport, Europe