IFRA World Publishing Expo 2018: Round-Up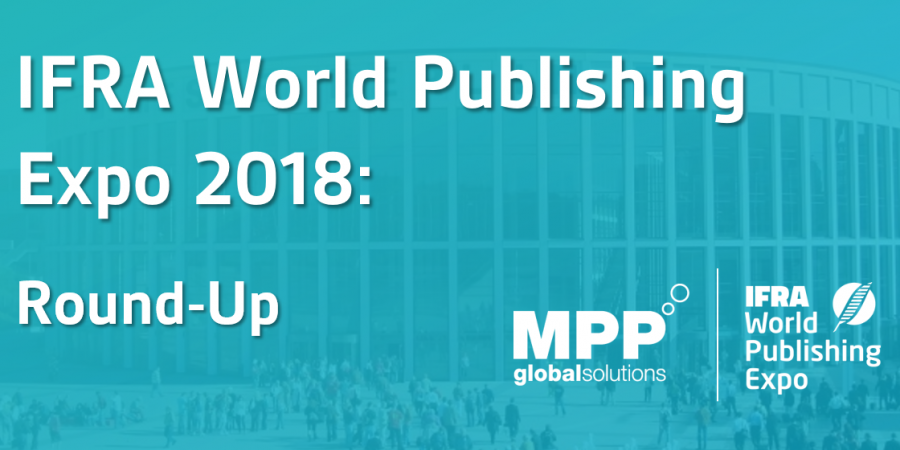 What You'll Learn:
Find out about MPP Global's key news and takeaways from 2018's IFRA World Publishing Expo, the annual event which brings together professional thought-leaders and decision-makers to discuss how the publishing and media industry is evolving.
---
IFRA World Publishing Expo 2018 marked the 48th meeting of the global publishing community, featuring two expos, five stages, +100 speakers and +170 exhibitors – including MPP Global's team of publishing specialists.
Over the course of the exhibition, our team of publishing specialists were on-hand to discuss the importance of centralizing subscription strategies and leveraging one fully integrated platform to identify, acquire and retain audiences, and drive reader revenues for both print and digital.
Here, we've compiled a round-up of our key learnings and news from this year's event.
Think we've missed something? Tweet your takeaways from this year's IFRA World Publishing Expo @mppglobalsolutions.
Ana's Talk: Real Time Subscription Management, Digital Transformation & The Need for Speed
On the first day of the event, Ana Lobb, VP, Media & Publishing, Europe, MPP Global presented on the DCX Content Stage, discussing the reasons why digital transformation is driving the need to update legacy subscription and billing platforms to drive revenues and build audience relationships.
Ana also covered in her presentation:
How publishers can bridge the innovation gap to improve operational efficiency
The importance of a flexible, feature-rich platform to support a complementary print and digital subscription strategy
An introduction to innovative subscription and billing tools and how to work more efficiently, making subscriber management a task for business users
How API-led cloud platforms and pre-integrated user journeys make lengthy and expensive integration projects a thing of the past.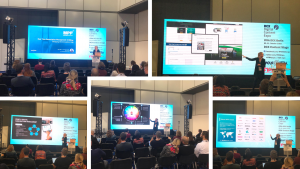 Download the Presentation Slides
Our Shared Stand with PageSuite
MPP Global and Pagesuite have shared clients' projects in recent years, including DC Thomson and, more recently, Racing Post.
Pagesuite have not only integrated eSuite's billing capability, but having recently launched Six Ports, are now able to provide development services to publishers, including customization and integration of the eSuite's customer journey pages.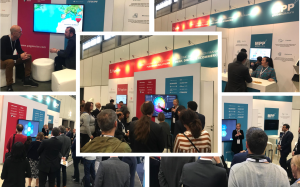 Ahead of IFRA 2018, Ana Lobb, VP, Media & Publishing, Europe, MPP Global co-hosted a webinar with PageSuite's Business Development Director, Ben Edwards, to present some of the most innovative paid content strategies from international markets. As part of the webinar, we conducted a poll in which we asked attendees which promotions, incentives and offers in their experience were the most successful for converting readers into subscribers.
Watch the webinar, "Around the World in 80 Paid… Content Strategies", and read the poll results to find out which incentive was voted the most popular by publishers.
Introducing Our Newest Partner: MSH
We're proud to announce MPP Global's new partnership with Medien System Haus (MSH), a leading provider of process consulting, product development and managed IT services to the German media industry.
Both MPP Global and MSH acknowledge the growing demand for publishers to drive reader revenues with digital subscriptions. Both organizations intend to work together to provide all publishers using SAP with the subscription capabilities they need to digitally transform, with the development of a modern, flexible API.
Ana Lobb, VP, Media & Publishing, Europe, MPP Global explains:
"For many publishers, their ERP system is their backbone. As digital transformation becomes more important for modern publishers, there is an urgency to have updated platforms in place to support increased speed to market.

"Unfortunately, it's quite common for publishers using SAP to encounter integration issues when adding functionality from platforms such as eSuite. The backbone ERP system can become slow and difficult to maintain, which makes it particularly challenging for publishers to successfully adapt to changing market trends."
Silke Nixdorf, CEO, MSH, said:
"Digital businesses require a new system architecture with seamless integration of modern software solutions like eSuite, which addresses customers' needs perfectly. We are delighted to drive business together with MPP Global."
We were fortunate enough to catch up with our new partner during IFRA 2018.
Find Out More About Our Partnership with MSH
New MPP Global Client: APA-DeFacto
APA-DeFacto is the leading provider of media monitoring and intelligence in Austria.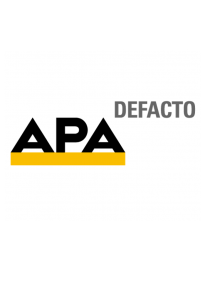 APA-DeFacto delivers a live paid content strategy via Austria-Kiosk, a digital newsstand with more than 300 national ePapers from around 120 publishers. Approximately 30,000 consumers are registered on the Kiosk, demonstrating a significant appetite for aggregated content.
APA-DeFacto were looking to improve the flexibility of the platform's on-demand content accessibility with new technology, offering the option for consumers to purchase not just entire issues from publishers, but the flexibility of single articles.
With eSuite, APA-DeFacto can now adopt a collaborative, quick-to-market approach country-wide, using micropayments, credits and monthly subscriptions to offer publishers a viable opportunity to tap into new and emerging paid content models.
We're excited to continue progressing this innovative project in the coming months.
Read More About Our Work with APA-DeFacto
New Project Launch: Torstar
We are excited to announce the go-live of our project with Torstar Corporation, one of Canada's largest publishers.
Earlier this year, the publisher selected MPP Global's eSuite platform to power their new paid digital subscriptions proposition. With eSuite implemented on the newspaper's flagship website (TheStar.com), Toronto Star now offers both registrations and subscriptions for consumers.
The functionality within eSuite enables Torstar to offer a complete solution without the need for multiple third-party components, streamlining the entire subscription management process.
Read More About Our Project with Torstar
Maximize Existing Reader Revenues with eSuite
Increasingly, as business models shift and become reliant on reader revenues, publishers are turning their focus to retention.
Competition for direct reader revenue is only going to become fiercer as more publishers align themselves to subscription-based revenue models. It will only continue to become increasingly vital for publishers to look to technology to grow and retain subscriber numbers.
Investments in technology give publishers access to more data than ever before about user behavior, which allows them to customize experiences in a way that encourages subscriptions and reduces churn.
eSuite is built with operational efficiency in mind, to enable speed-to-market and breadth of flexibility in business models for publishers, from print and physical products to on-demand, micro-payments and bundling.
Reduce both voluntary and involuntary churn and optimize payment success rates with card updater, card flagging, suppression windows and retry rules. Personalize offers and promotions to win back those consumers on the cusp of churning, and use surface machine learning statistics to analyze and automate rules based on customers likely to churn.
Find out more about eSuite's anti-churn technology can help you to maximize your existing reader revenues.